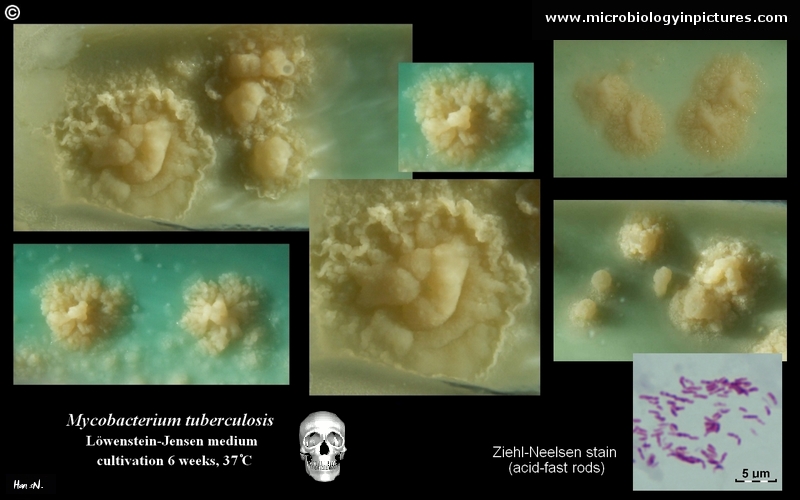 Mycobacterium tuberculosis on Löwenstein-Jensen medium after 6 weeks of cultivation, 37°C. Typical eugonic growth on Löwenstein-Jensen medium: buff to yellow, rough wrinkled colonies. The green color of the medium is due to the presence of malachite green which is one of the selective agents to prevent growth of most other contaminants. Unlike many other solid cultivation media used in clinical microbiology Löwenstein-Jensen medium (or e.g. Ogawa medium) doesn't contain any agar (solid consistence is attained by heat coagulation of the egg albumin).
Mycobacterium tuberculosis (MTB) is a pathogenic bacterial species in the genus Mycobacterium and the causative agent of most cases of tuberculosis. First discovered in 1882 by Robert Koch, M. tuberculosis has an unusual, waxy coating on the cell surface (primarily mycolic acid), which makes the cells impervious to Gram staining; acid-fast techniques are used instead. The physiology of M. tuberculosis is highly aerobic and requires high levels of oxygen. Primarily a pathogen of the mammalian respiratory system, MTB infects the lungs, causing tuberculosis.

M. tuberculosis requires oxygen to grow. It does not retain any common bacteriological stain due to high lipid content in its wall, and thus is neither Gram positive nor Gram negative; hence Ziehl-Neelsen staining, or acid-fast staining, is used. While Mycobacteria do not seem to fit the Gram-positive category from an empirical standpoint (i.e., they do not retain the crystal violet stain), they are classified as acid-fast Gram-positive bacteria due to their lack of an outer cell membrane. M. tuberculosis divides every 15–20 hours, which is extremely slow compared to other bacteria, which tend to have division times measured in minutes (Escherichia coli can divide roughly every 20 minutes). It is a small bacillus that can withstand weak disinfectants and can survive in a dry state for weeks. Its unusual cell wall, rich in lipids (e.g., mycolic acid), is likely responsible for this resistance and is a key virulence factor. When in the lungs, M. tuberculosis is taken up by alveolar macrophages, but they are unable to digest the bacterium. Its cell wall prevents the fusion of the phagosome with a lysosome. Specifically, M. tuberculosis blocks the bridging molecule, early endosomal autoantigen 1 (EEA1); however, this blockade does not prevent fusion of vesicles filled with nutrients. Consequently, the bacteria multiply unchecked within the macrophage.

Cultivation

M. tuberculosis is grown on a selective medium known as Lowenstein-Jensen medium, which has traditionally been used for this purpose. However, this method is quite slow, as this organism requires 6–8 weeks to grow, which delays reporting of results. A faster result can now be obtained using Middlebrook medium or BACTEC.
Abbreviated from Wikipedia.