Three different strains of Klebsiella pneumoniae on Endo agar with biochemical slope (see here). Klebsiella pneumoniae is urea positive (blue color of the slope), metabolise glucose with production of gas(bubbles under a piece of glass - in detail left down side of each plate) and is lactose positive (but on Endo agar its colonies often remain quite pale).
Unlike some similarly looking strains of Enterobacter cloacae is K. pneumoniae lysine "+", ornithine "-", arginine "-" (E. cloacae lysine "-", ornithine "+", arginine "+").
Klebsiella pneumoniae is a Gram-negative, non-motile, encapsulated, lactose fermenting, facultative anaerobic, rod shaped bacterium found in the normal flora of the mouth, skin, and intestines. It is clinically the most important member of the Klebsiella genus of Enterobacteriaceae. It naturally occurs in the soil and about 30% of strains can fix nitrogen in anaerobic condition. As a general rule, Klebsiella infections tend to occur in people with a weakened immune system from improper diet (alcoholics and diabetics). Many of these infections are obtained when a person is in the hospital for some other reason (a nosocomial infection). The most common infection caused by Klebsiella bacteria outside the hospital is pneumonia. New antibiotic resistant strains of K. pneumoniae are appearing, and it is increasingly found as a nosocomial infection.Klebsiella ranks second to E. coli for urinary tract infections in older persons. It is also an opportunistic pathogen for patients with chronic pulmonary disease, enteric pathogenicity, nasal mucosa atrophy, and rhinoscleroma. Feces are the most significant source of patient infection, followed by contact with contaminated instruments.
Abbreviated from Wikipedia.
COLONY MORPHOLOGY
GRAM-NEGATIVE RODS
NONMOTILE
NONSPOREFORMING
CATALASE: POSITIVE
OXIDASE: NEGATIVE
FACULTATIVELY ANAEROBIC

BASIC TESTS
FOR IDENTIFICATION
MacConkey growth
+
Indole production
-
Methyl red
-
Voges-Proskauer
+
Citrate(Simmons)
+
Hydrogen sulfide(TSI)
-
Urea hydrolysis
+
Lysine decarboxylase
+
Arginine dihydrolase
-
Ornithine decarboxylase
-
Motility (36 °C)
-
D-glucose acid/gas
+/+
D-mannitol fermentation
+
Sucrose fermentation
+
Lactose fermentation
+
D-sorbitol fermentation
+
Cellobiose
+
Esculin hydrolisis
+
Acetate utilization
D
ONPG test
+
+ positive ( > 90% of strains are positive)
D most positive (51 - 89%)
d most negative (11 - 50%)
- negative (0 - 10%)

ANTIBIOTIC
TREATMENT
Should be always guided by
in vitro susceptibility
tests!!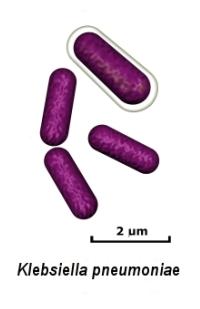 Uncomplicated urinary tract infections

trimethoprim-sulfamethoxazole
cephalosporines(second and third generation)
tetracyclines


Alternative

aminoglycosides
amoxicillin/clavulanic acid
ampicillin/sulbactam


Other infections

fluoroquinolones
cephalosporines(second and third generation)


Alternative

aminoglycosides
imipenem/Cilastin
aztreonam
colistin


In ESBLs avoid cephalosporins. Carbapenemase producers (KPCs) are resistant to carbapenems, penicillins, cephalosporins, fluoroquinolones, and aminoglycosides.